Articles From
Class-Struggle
Defense Notes
No. 35, Spring 2008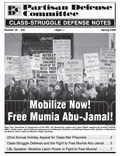 22nd Annual Holiday Appeal for Class-War Prisoners • Class-Struggle Defense and the Fight to Free Mumia Abu-Jamal • LBL Speaker: Mobilize Labor Power in Fight to Free Mumia! • Financial Statements • Account Receipts

22nd Annual Holiday Appeal for
Class-War Prisoners

The following article is reprinted in slightly edited form from Workers Vanguard No. 906 (18 January).
The Partisan Defense Committee's 22nd annual Holiday Appeal for Class-War Prisoners was held this past December in New York City, Chicago, the Bay Area, Los Angeles, Toronto and Vancouver. The PDC, a class-struggle legal and social defense organization associated with the Spartacist League, raised over $11,000 after expenses for its program of monthly stipends to those imprisoned for standing up to racist capitalist repression—whose freedom is in the interest of the entire working class. The PDC revived this concrete expression of solidarity initiated by the early International Labor Defense under James P. Cannon, its founder and first secretary (1925-28), and currently sends money to 16 class-war prisoners. A central focus of this year's events was the urgent campaign to mobilize mass protest demanding freedom for death row political prisoner Mumia Abu-Jamal.
Among the speakers in New York City was radical attorney Lynne Stewart, who was convicted along with Mohamed Yousry and Ahmed Abdel Sattar in 2005 on outrageous "war on terror" frame-up charges of conspiracy to provide material support to terrorism and to defraud the U.S. government. Stewart is free during appeal of her 28-month sentence, as is Yousry during appeal of his 20-month sentence. Oral arguments before the Second Circuit Court of Appeals were heard on January 29. Abdel Sattar is locked up in Colorado's infamous Supermax prison, sentenced to 24 years. Free Abdel Sattar! Overturn the convictions of Stewart and Yousry!
Monique Code also spoke at the NYC gathering on behalf of Mumia's son, Jamal Hart, who was targeted for his prominent activism in the campaign to free his father and sentenced in 1998 to 15 1/2 years without parole on bogus firearms possession charges. Speaking in Toronto were Dave Bleakney, National Union Representative of the Canadian Union of Postal Workers, and MacDonald Scott, an activist from the Ontario Coalition Against Poverty and No One Is Illegal. In the Bay Area, Donna Wallach spoke on behalf of the Leonard Peltier Defense Committee.
The fight to free Mumia Abu-Jamal is at a critical juncture. On May 17, the Third Circuit Court of Appeals heard oral arguments in Mumia's case, and there could be a decision at any time. If the court rules to uphold the death sentence or denies Mumia's appeals for a new trial or a new hearing, the PDC and Labor Black Leagues have called for protests the day after the decision. The PDC is also mobilizing a class-struggle contingent for the national demonstration called by the International Concerned Family and Friends of Mumia Abu-Jamal three Saturdays after the decision.